March 22, 2009
Amargosa Valley Solar Developer Eager to Start Building to Get Grant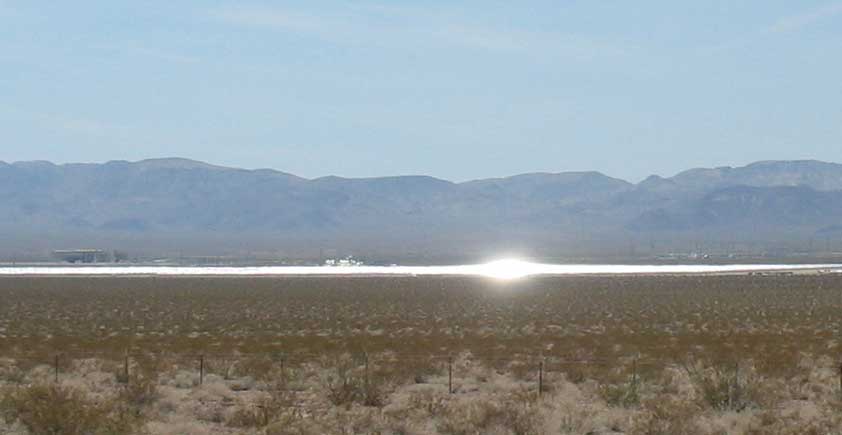 Germany-based Solar Millennium announced an informal agreement this month to sell 250 megawatts of solar power to the utility company NV Energy by building a $1 billion solar thermal plant on 14,000 acres of land in Nye County. But they are hoping to beat a federal deadline at the end of 2010 to be able to obtain a grant for 30% of the cost of construction -- that would be as much as $300 million taxpayer dollars. Many solar developers are impatient with the 18- to 24-month environmental review process to be able to lease public land. The Bureau of Land Management, which oversees much og the Amargosa Valley, has been oberwhelmed by applicants for renewble energy projects. A southern Nevada BLM office had 55 solar applications under review as of January.
Interior Department Secretary Ken Salazar issued his first secretarial order on March 11, "facilitating the production, development and delivery of renewable energy" as a top priority for the department. Salazar said he is establishing an energy and climate change task force that would identify and quantify renewable energy spots on public lands and work to "resolve obstacles to renewable energy permitting, siting, development and production without compromising environmental values." But construction must begin before Dec. 31, 2010 to get the grants.
State Assembly Speaker Barbara Buckley introduced a joint resolution calling on Congress to pass a law deeding a small portion of BLM land to the state for renewable energy development, similar to Boulder City's "green zone" where one environmental review would sweep the entire area.
See the story in the Las vegas Sun >>here.

March 21, 2009
Coyote Springs Developer Wants Solar Thermal Plant
Nevada developer Harvey Whittemore and BrightSource Energy Inc. of Oakland, California, have reached an agreement on a solar thermal project that could provide up to 600 megawatts of power for Whittemore's Coyote Springs development and other  markets in Nevada and California. The project would be built on a six square miles in Lincoln and Clark Counties near existing power transmission lines. The Coyote Springs development project is located on 43,000 acres of Mojave Desert land about 50 miles north of Las Vegas along Highway 93. A golf course opened in 2008, and Whittemore had planned to build 150,000 homes plus a business district, before the economic downturn. He also wants a hotel-casino on 125 acres of the site.

If this concentrated solar plant is to be wet-cooled, that would require 6 acre-feet of water per megawatt per year -- a large amount. Hydrologist Tom Myers commented commented on the Sierra Club Desert Forum that the Coyote Springs Basin has very little natural recharge of its groundwater. Whittemore had been applying to tansfer about 20,000 acre-feet from Lake Valley to Coyote Springs Valley that is currently being used on a ranch that would be no longer run. The state engineer would not allow them to transfer more than the perennial yield of the basin, but would allow all that is available to be used.

See the story at MSNBC >>here.
March 16, 2009
Labor Unions Promote Rooftop Solar
Solar lobbyists sought solar legislation that would help put solar panels on rooftops, parking garages, and businesses in southern Nevada. The AFL-CIO signed on and set up a training school to certify all new electrician apprentices as photovoltaic solar installers.
"The whole idea originally was to create an industry," said Danny Thompson, executive secretary-treasurer of the state AFL-CIO.
But things didn't go quite as planned. Instead of rooftop panels, the solar requirements were consumed by massive utility-scale solar projects to the state, according to the Solar Alliance, a group of 31 solar developers and installers. The alliance and labor unions are backing a bill that would carve out special requirements to promote rooftop solar installations.
The benefits of so-called distributed solar — a category that includes rooftop solar and any other energy produced at the site where it is consumed — are substantial, proponents say: The installations cut down on the energy waste and costs of transmission lines. And they don't require vast installations in the desert that can disrupt desert habitats. And unlike solar plants, which create numerous short-term construction jobs but few permanent jobs, residential and commercial solar promises a steady stream of jobs — the certified electrician jobs that often go to union member
See the the story in he Las Vegas Sun >>here.
March 12, 2009
Solar Companies Moving on Amargosa Valley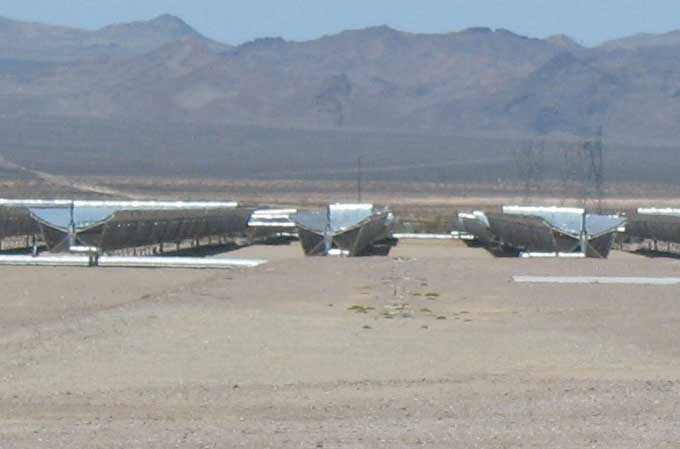 Renewable energy company Solar Millenium thinks the current push in Congress will make it possible to break ground on a 250-megawatt solar thermal power plant in Amargosa Valley, Nevada, in 2010. With joint venture partner MAN Ferrostaal Inc. of Germany, Solar Millenium last week announced a memorandum of understanding had been signed with the large utility NV Energy. Solar Millenium wants a wet cooled system for the turbines instead of a dry cooled system, which would have higher costs and less efficiency.

"I'm sure [Solar Millenium] won't have too big of a problem leasing water from people who have been farming out there," said Nevada Assemblyman Ed Goedhart (R-Amargosa Valley).
But gathering water rights may be a long process in this arid desert basin. Ausra NV, from Palo Alto, California, applied in November for gaining access to 132 acre-feet of old mining water rights near Lathrop Wells in the Amargosa Valley, for "industrial cooling at a solar energy park" according to the permit application with the Nevada State Engineer (an acre-foot is 320,000 gallons per year). We note that if Ausra wants to do wet-cooling, they would need to gain a total of 372 acre-feet for their proposed 62 megawatt solar thermal power plant. In addition, Bureau of Land Management applications in 2008 show Ausra originally wanted well over 15,000 acres for solar thermal, which would be more than 250 megawatts. See the water rights permit >>here.
Ausra NV opened a solar product manufacturing plant in Las Vegas last June, and says it is more interested now in focusing on manufacturing solar thermal components than on developing solar power plants due to the lack of financing and permitting delays (and water perhaps?). Ausra Chief Executive Officer Bob Fishman said Ausra NV can easily ramp up and install low-cost projects as early as 2009 or 2010, while large power projects take much longer, often three to four years.
See the story in the Pahrump Valley Times >>here.
March 12, 2009
Green Trading: It's All About the Money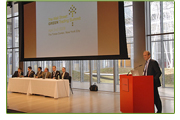 "2009 is the Year of Green Trading" says the advertisement for the Wall Street Green Trading Summit, April 1 and 2, 2009 at the Times Center, New York. Is the "Green Economy" based on sound ecological science or what's best for profit? The coming years will tell.
The website announcing the green investors workshop on how to "invest, trade and profit from these new market opportunities" tells us:
"Green Trading has emerged as a mainstream market-driven solution with higher visibility than ever before due to federal action on climate change, renewables and cleaner technology in 2009. Investors are interested and projects are moving forward, and now its time for trading to accelerate in environmental financial markets.
"Topics at this year's summit include: Investigate how trading solutions for emissions and renewables are primed to accelerate; Learn why carbon is the missing link in cleantech investment; Learn about the new green venture capital/hedge fund financial model; Learn why forestry is getting an added thrust in carbon trading markets; Find out the new market opportunities for green hedge funds; Learn how clean tech is ripe for market acceleration; Gain insights into how carbon and renewables are interrelated in generating carbon credits; Find out why water is the new emerging commodity market; Find out how to reduce the carbon footprint and turn that into money."
See www.wsgts.com

March 9, 2009
Nevada Seeks to "Cash in on the Sun"
The "The golden state could be a gold mine for Nevada," Charles Benjamin, Nevada coordinator for Western Resource Advocates said. "What I'm trying to do is promote the idea that renewable energy could provide a revenue stream to the state from California."
According to the Energy Department, a 100-mile-long stretch of solar panels in the Nevada desert could power the entire country. Some ideas for cashing in on solar by nevada include a "sun energy extraction fee," or creating an authority that would issue bonds to pay for transmission lines specifically for the purpose of exporting energy, and then charge users in other states to use the lines. Yet another idea Benjamin discussed with lawmakers was to create an impact fee for using certain lands in the state. Benjamin and others argued that solar energy plants do not employ enough people to have a significant enough economic impact on the state without an added fee. The 10 megawatt photovoltaic Sempra plant that opened recently near Boulder City and exports energy to a Northern California utility, has one permanent employee.
See the story in the Las Vegas Sun >>here.
March 8, 2009
"Pushing Aside" NIMBYs for Powerlines

The economic stimulus bill contains a $3.2 billion provision by Senate Majority Leader Harry Reid that gives power companies access to low-cost government loans and even grants to build transmission lines for renewable energy (as well as fossil fuel energy). The bill has the potential to "transform entire landscapes in Nevada and elsewhere in the West." Paying back loans for transmission lines is far more difficult if the power comes from solar, wind and other renewable sources. Those industries are still in their infancy and will need years to mature to the point that they can fill and fund new transmission lines. These transmission lines can cost up to $2 million a mile. The money will be available through the Western Area Power Authority, a federal agency that coordinates and oversees construction of transmission lines.
But "energy developers still must contend with NIMBYism as residents may protest new power lines crisscrossing their communities....To push aside this long-standing problem, Reid has stepped up with another bill. Introduced last week, the legislation would give the federal government sweeping new authority to situate the power lines by exercising the power of eminent domain over private property...." Reid's bill encourages states to develop renewable energy zones to choose where power lines would go. Otherwise the US government could step in through the Federal Energy Regulatory Commission. " In Nevada, eminent domain may not bring as much protest as elsewhere because so much land in the state is owned by the federal government."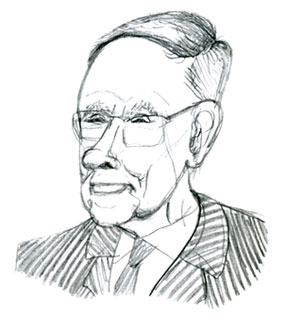 "We're going to move beyond where one state can hold that up forever," Reid commented at an energy summit he hosted in Washington recently. "As we did with railroads, we did with highways, as we did with the telegraph, there may become a time when the federal government will step in."
See the story in the Las Vegas Sun >>here.
March 5, 2009
Nevada Utilities Worried About RPS
A Renewable Portfolio Standard (RPS) draft bill is in the state Legislature. It would require Nevada utilities to include 25% renewable energy in their portfolios.
"There's no doubt in my mind we're going to get hit with ... renewable portfolio standards," said Las Vegas cooperative Valley Electric Association Chief Executive Officer Tom Husted said.
Purchasing renewable power costs 15 cents per kilowatt hour, twice the normal rate. Because of this high cost, the cooperative has stressed conservation in recent programs. Valley Electric also advocates renewable energy on a micro scale, in the form of solar water heaters for individual homes instead of building large solar power plants, in what Husted calls "assisting with generation one tiny unit at a time." Valley Electric Finance Director Brian Fickett is seeking ways to hook up all the members to solar hot water heaters as part of the stimulus package. That would earn the cooperative solar renewable energy credits. Estimates are that 14 percent of residential electric bills go to water heating.
See the article in the Pahrump Valley Times >>here.
March 4, 2009
Renewable Portfolio Standard Bill Now in Senate: Cap-and-Trade, Grants
A Federal renewable energy credit trading program that would begin in 2010 is part of a bill in the Senate, and part of the program would include issueing tradeable renewable energy credits to generators of electric energy from new renewable energy. Double credits would be given for generation from facilities on Indian land, and triple credits for generation from small renewable distributed generators (meaning those no larger than 1 megawatt), which is good news for rooftop solar. A national tradeable renewable energy credit market would also be created. All money collected from alternative compliance payments and the assessment of civil penalties from utilities will deposited into the renewable energy account. These proceeds would be used to provide grants to State agencies responsible for developing State energy conservation plans and for promoting renewable energy production, including programs that promote technologies that reduce the use of electricity at customer sites, such as solar water heating.
See the bill >>here.
February 10, 2009
New Jersey Utility Rooftop Solar Program

Public Service Electric and Gas Co. (PSE&G) will install 120 megawatts of smaller-scale photovoltaic (PV) systems mounted on utility poles, government buildings, schools and affordable housing developments, at a cost of $773 million, which the company would directly own and operate. Congress last October lifted the rule that had previously prohibited utilities from using the federal investment tax credit for solar energy. Utility-scale power providers could drive down the costs of solar installations by making much larger bulk purchases than any single business or homeowner could. The solar panels would connect directly to the grid. PV would be placed on as many as 200,000 utility poles, while another third would be placed on on the roofs of government buildings and schools. PSE&G would pay rent to local governments. The company will also build larger solar energy farms on brownfield sites, nonprofit-owned real estate, and underdeveloped properties, in addition to PSE&G-owned land. Up to 2 megawatts would be built atop affordable housing developments.
From Climatewire.
February 9, 2009
Nevada Coal Plant Nixed, New Transmission Line Will Still Be Built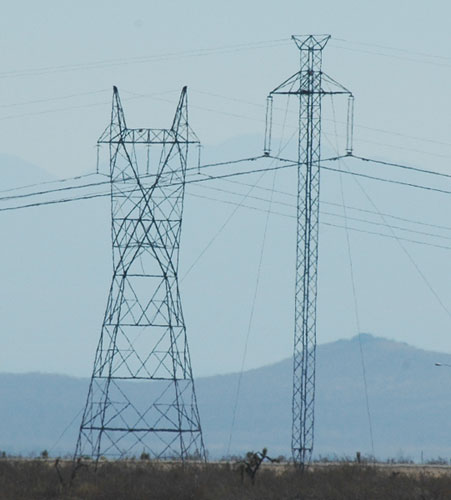 NV Energy of Nevada announced that it has postponed plans to build a coal-fired power plant near Ely due to economic concerns associated with coming climate change legislation, but it will continue to build a 500-megawatt transmission line to connect northern Nevada with the Las Vegas region. The 250-mile-long transmission line will still help move energy from three newly built and acquired natural gas generating plants in southern Nevada. The powerline has been the hope of many companies wishing to build large solar and wind projects along the route in places such as Pahranagut Valley and Delamar Valley. From the Las Vegas Sun.
We note that although natural gas gives off half the the carbon dioxide that coal does, it still releaes a substantial amount of this principal greenhouse gas that contributes to global warming. Approximately 20% of fossil fuel carbon dioxide emmissions in 2002 came from natural gas-burning (EPA).
February 9, 2009
Chu: Second Industrial Revolution

"We essentially need a second Industrial Revolution that can generate lots of clean energy cleanly, cheaply, sustainably," said Energy Secretary Steven Chu. He said that the Obama administration and Energy Department will "have to start inventing right, left and center." He was referring to the "clean-energy economy" powered by wind, sun and biofuels, as well as by building thousands of miles of transmission lines to deliver wind and solar power to consumers.
From Greenwire.
February 9, 2009
Transmission Lines Are Expensive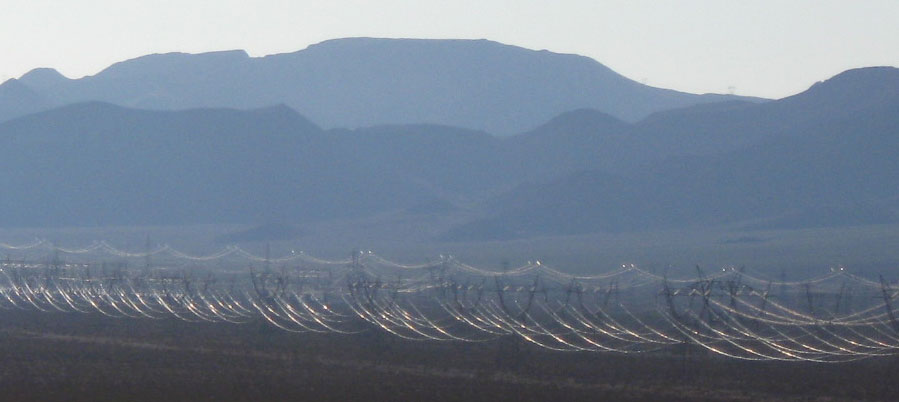 To get 20% of US wind by the next ten to fifteen years would require grid operators to spend $1.2 trillion for capital costs and another $85 million to produce thje energy that would be carried by these new high-voltage transmission lines. And that is just for area east of the Rockies known as the Eastern Interconnection. Carryiing wind-generated electricity from Midwest wind hotspots to the East would need $80 million for new powerlines alone. This is according to a study by the Joint Coordinated System Plan, six grid operators responsible for electric reliability in the eastern United States.
From Greenwire.
February 6, 2009
Florida Town Opts for Local Energy
Gainesville decided to enact a feed-in tariff system with new solar photovoltaic installations on homes allowing homeowners to be eligible to receive 32 cents per kilowatt hour of electricity produced by the system over the next 20 years. Local residents lined up to install PV on their rooftops, and large manufacturers were also interested. The policy may stimulate millions of dollars in private investment in solar energy.
See the story >>here.
For more on feed-in tariffs elsewhere, see the article "The Better Way" by Alliance for Responsible Energy Policy >>here.
February 5, 2009
San Jose School District Launches Rooftop Solar

Showing that cities can generate their own power without relying on massive new solar or wind developments a thousand miles away, Silicon Valley's San Jose Unified School District in California total of 5.5 MW of solar power at 14 district sites. Chevron Energy Solutions designed, built, and operates the photovoltaic arrays for the district. Bank of America, through the Banc of America Public Capital Corporation Energy Services team, owns the solar equipment and sells power to the district under a service contract at set rates significantly below market utility rates, providing the schools savings and energy cost predictability. The district expects its energy costs to be reduced by more than 30% and to save its general fund more than $25 million over the 25-year life of the project. The California Solar Initiative and other incentives offset the overall cost of the program by more than $11 million. If the district were to finance the project itself, it would borrow $18.1 million for the first phase, and end up paying much more than $30 million, including interest.
The program is also combining high efficiency and conservation programs, replacing old equipment to save energy.
See the story >>here.
February 3, 2009
Stimulus Bill Has Grants for Renewable Energy Companies
The House-passed economic stimulus bill would allow solar, wind, and other types of energy projects to receive Department of Energy grants covering up to 30 percent of project costs. The grants would cover 30% of the project construction cost. The chairman of the Senate Energy and Natural Resources Committee Senator Jeff Bingaman's (D-NM) unveiled a proposed grant program for renewable power projects that would provide the Treasury Department a share of the project or the right to repayment. Tax credits are vital to project funding, but the industry says they do not work in a recession when investment banks do not want to finance.
The Treasury might be given the right to receive stock in the grant recipient, although the department would not exercise voting power if the stocks were voting shares. Or the company would owe debt to the Treasury. We will have to see what form this takes when the bill moves through Senate discussions this week.
The story >>here.
January 21, 2009
Change? New Renewable Energy Offices Established
Bush's Interior Secretary Dirk Kempthorne laid a framework for his replacement, Ken Salazar, by giving a secretarial order authorizing the Bureau of Land Management (BLM) to establish offices that will expedite renewable energy development on public lands. The new Renewable Energy Coordination Offices will expedite the permitting of wind, solar, biomass, and geothermal projects on BLM-managed lands, along with transmission lines. This decision is aimed at accelerating the development of renewable energy on public lands, by moving more personnel to working on applications by energy companies, and improving coordination between agencies, such as the US Fish and Wildlife Service. The Obama administartion will continue this policy.
See the story >>here, and >>here.
January 13, 2009
Federal Loans to Big Renewable Companies
A bill (S.224) to "promote economic recovery through green jobs and infrastructure" was introduced by Sen Debbie Stabenow (MI), and is currently being reviewed by Referred to Senate Committee on Energy and Natural Resources. The measure would provide loans to manufacturers to help finance the cost of manufacturing "clean technology products" such as wind turbines and solar energy products, as well as for retrofitting fossil fuel plants. The loans would "total of not more than $50,000,000,000" (that's $50 billion) from the Federal Financing Bank. The bill, if passed, would not be enacted until October 2009.
See the bill >>here.


HOME........Renewable News page 1....page 3....page 4....page 5....page 6....page 7