July 15, 2009
Amargosa Valley Land Owners Protest New Solar Energy Study Area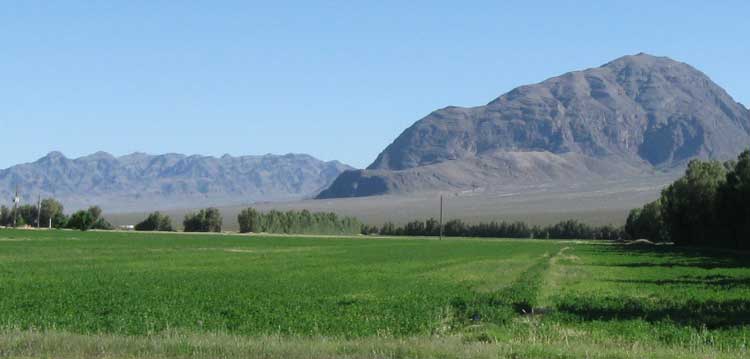 The town of Amargosa Valley, in Nye County, southern Nevada, is zoned mostly for residential and agricultural useage. But a new player has come to town: the federal government. The Amargosa Valley land use plan has come under fire from businesses as well. Jon DeLee read a letter of opposition from his family, which includes longtime Amargosa Valley Realtor Michael DeLee, to members of the Amargosa Valley area plan committee and town advisory board last Wednesday night. The letter was co-signed by owners of the Funeral Mountain Ranch and Rockview Farms. A principal feature of the zoning map for the Amargosa Valley area plan is a special development area in the north for solar energy, wind energy and other projects, like the Yucca Mountain Gateway Project.
"It is our contention that most who have purchased property here over the years did so with the promise of freedom from governmental restrictions, especially at the local and most intrustive level -- zoning and land use planning," DeLee said. He went on to add that preserving the rural atmosphere is preserving their investment for future development and economic rewards.
DeLee and his supporters want three conditions written into the plan:

* No privately-held land would be included in the area plan without written consent of the landowners.

* There should be no property seized through eminent domain.

* If a utility corridor already exists within a reasonable distance of where a new utility line is proposed, no new utility corridors should be created.
The local planning committee and town board met to consider a revision to include a quarter-mile buffer between renewable energy devlopments and residences. Solar Millenium had already announced plans to build a large parabolic trough solar thermal plant outside but near the new Solar Energy Study Area, and is moving along with its application on Bureau of Land Management land next to the town (see our story >>here.)
Some local businesses want the solar companies to move in, thinking they will bring jobs. But many residents see otherwise. Ryan Corrigan, a resident on Sandy Lane, said he isn't against solar energy. He just doesn't want 4,000 acres of reflective mirrors 23 feet in diameter and 30 feet high heating oil to 750 degrees right down the street from his house, which are what Solar Millenium plans to build to power two 250-megawatt solar power plants in the valley. The concentrated solar plant would run right along the main road of the community near a school.
Stories in the Pahrump Valley Times >>here and >>here.
July 13, 2009
Solar Millenium Scoping Process Starts in Public Land in Amargosa Valley

The Bureau of Land Management (BLM) Field Office, Southern Nevada District, Pahrump Field Office intends to prepare an environmental impact statement (EIS) for the Amargosa Farm Road Solar Energy Project by Solar Millenium, located on public lands in Nye County, Nevada and is announcing the beginning of the scoping process and soliciting input on the identification of issues. The BLM will announce public scoping meetings through their website
(http://www.blm.gov/nv/st/en/fo/lvfo.html) at least 15 days prior to each meeting.
Solar Millennium, LLC, has submitted a right-of-way application to BLM to construct two concentrated solar thermal parabolic trough power plant facilities on public lands,
approximately 80 miles northwest of Las Vegas, in Nye County, Nevada. The Project site would consist of approximately 4,350 acres of public land located in Amargosa Valley, south of Highway 95. Each facility is expected to operate for approximately 30 years. Each plant would
utilize solar thermal parabolic trough technology, consisting of a 242 megawatt (MW) power block equipped with thermal storage tanks capable of producing additional energy for 3.5 hours after sundown, and a solar field composed of parabolic trough mirrors.

The solar field would be highly modular and would consist of "loops,'' each containing 4 curved glass mirror collectors. A loop is 22m wide and 400m long (72.18' wide and 1312.33' long). The solar field would consist of approximately 400 loops. The orientation of the collectors would be north-south, and the collectors would track the sun from east to west during the day. The collector would focus the sun's direct beam radiation on a receiver tube. The row of collectors would have a hydraulic drive unit with sensors to track the sun's path throughout the day. The solar energy would heat a transfer fluid which cycles through a series of heat exchangers to generate steam, which drives a steam turbine to ultimately generate electricity. The electric output of the Project would be generated entirely by solar energy. No electricity would be generated by the use of fossil fuel in these facilities.

The proposed Project facilities would include the solar fields, power blocks, buildings, parking area, laydown area, stormwater retention pond, and evaporating ponds. A single overhead 230 kilovolt (kV) transmission line would connect the facilities to the nearby Valley Electric Valley substation, located on Anvil Road. Additional elements of the Project would include access roads and optional water pipeline. The proposed Project may require the rerouting of a road and an existing low voltage distribution power line. The EIS will analyze the site-specific impacts of the Project on air quality, biological resources, cultural resources, water resources, geological resources, paleontological resources, public health, socioeconomics, soils, traffic and transportation, and visual resources. It will analyze the geologic hazards, hazardous materials handling, land use and airspace, noise, waste management, worker safety, and fire protection potentially associated with the Project. It will also analyze facility design engineering, efficiency, and reliability; transmission system engineering; and transmission line safety and nuisance. Native American Tribal consultations will be conducted in accordance with policy, and
Tribal concerns will be given due consideration. The EIS will include the consideration of any impacts on Indian trust assets.

Comments related to the project may be submitted by any of
the following methods: solar_millennium@blm.gov or gregory_helseth@blm.gov.
(From the Federal Register: July 13, 2009, Volume 74, Number 132.)
July 10, 2009
Ivanpah Solar Electric Generating System Project draft EIS Due by August 26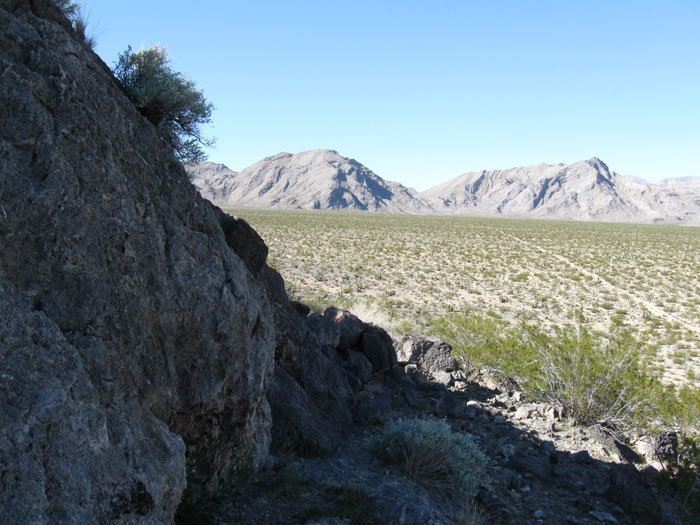 The Bureau of Land Management (BLM) informed the California Energy Commission that it intends to complete the Draft Environmental Impact Statement (DEIS) by or before August 26, 2009. The environmental review process is moving siwftly, to try to accomodate the applicant company BrightSource's eager requests for a permit to begin construction by 2010.
Source: California Energy Commission.
June 24, 2009
Natural Gas Pipeline Proposed to Cut Through Northern Great Basin Public Lands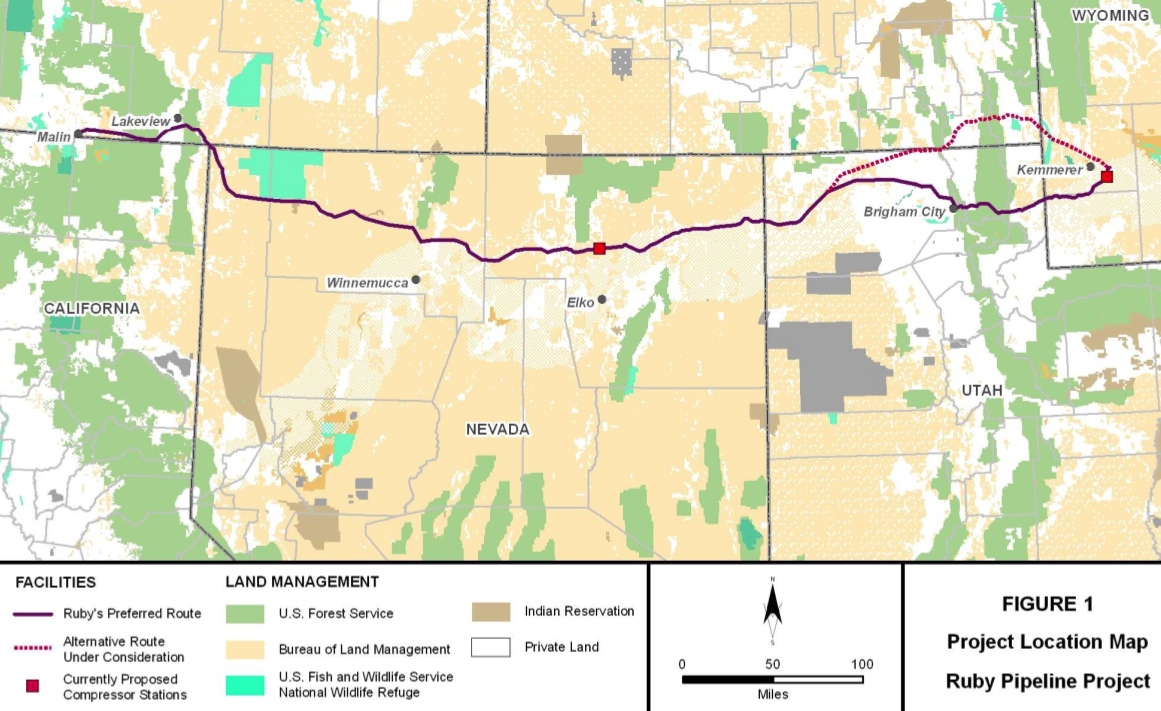 Although not renewable energy, natural gas will be used extensively as baseload power to back up the numerous wind and solar projects proposed for the Western U. S. So we note the Toiyabe Chapter of the Sierra Club announced on their website that a new natural gas pipeline is proposed over 680 mile. El Paso Corp based in Colorado, would build the 42" buried pipeline from Wyoming, Utah, across northern Nevada to Oregon. The Chapter commented in its letter to the Federal Energy Regulatory Commission (FERC) that the company should look at routes which follow existing utility corridors rather than damage wild lands and undisturbed sagebrush steppe habitat in Nevada. The proposed pipeline route would cross critical wildlife and wild lands on the southern boundary of the Sheldon National Wildlife Refuge in northwestern Nevada, a stronghold for Pronghorn antelope. Nevada customers apparently would receive no gas from the pipeline.  No public hearings were held in Nevada, but in Utah the project faced considerable opposition at recent hearings.
June 24, 2009
Nellis Air Force Bombing Range Doesn't Want Solar Project Nearby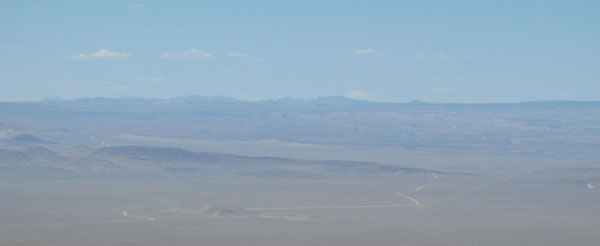 Col. Howard "Dave" Belote, Nellis Air Force Base commander, urged the federal government to deny construction of a $700 million solar-power plant on Bureau of Land Management land next to the Nellis flight-training range, near Tonopah, Nevada. Los Angeles company SolarReserve wanted to build the solar station, but Belote said the plant "is incompatible with our vital national security operations." He said it would interfere with radar and ground-based systems for operations involving flight testing, air warfare training, and large force exercises. SolarReserve had been negotiating with the Air Force for 18 months and has already revised its plans once to move the plant 25 miles away from the test and training range, at the Air
Force's suggestion. Belote suggested they try a site near Mesquite, Nevada, 75 miles east of the base. The plant was supposed to be a showcase for SolarReserve: one of the largest solar plants in the world, using heat-transfer technology developed by United Technologies. But the Air Force has a history of balking at projects near the 2.9-million-acre flight-training range, which makes up 41 percent of its training acres. The Air Force objected to a wind turbine project at the Nevada Test Site for similar reasons.
See the story in the Las Vegas Review Journal >>here.

June 1, 2009
Feds Investigate Potential for Solar Land Speculation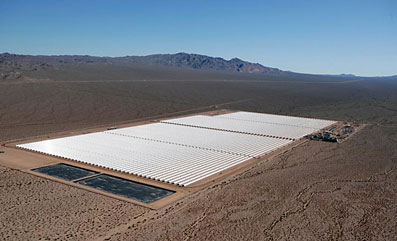 A land rush to stake claims for renewable energy projects in the California desert caused the inspector general's office of the Department of the Interior to investigate solar companies who stand to gain federal stimulus money in 2010. The Feds are trying to stay ahead of any potential land speculation and profiteering.
First Solar Inc. of Tempe, Arizona acquired OptiSolar, and its unfinished renewable energy projects, for $400 million on May 31, 2009. The deal gave First Solar control OptiSolar's "strategic land rights" to 136,000 acres of public land in San Bernardino, Riverside and Kern counties in California. Bureau of Land Management officials pointed out that First Solar only got OptiSolar's applications to develop that land, applications which may still be rejected. BLM is trying to weed out speculators who are filing applications, then waiting for someone to buy them at the highest price.

Cogentrix Solar Investments alone is seeking more than 300,000 acres of federal land in an application for renewable energy projects.
"My concern is that highly speculative and perhaps fraudulent investment
games are being played with hundreds of thousands of acres of public land,"
said Bruce Pavlik, a professor of biology at Mills College.
600,000 acres of former railroad lands between Mojave National Preserve and Joshua Tree National Park were purchased with $40 million of private donations collected by
the Wildlands Conservancy and $18 million in federal funds, then donated to
the Department of Interior for conservation.The group was outraged when BLM began accepting 19 applications for renewable energy projects on the donated lands. This triggered Sen. Dianne Feinstein (D-Calif.) to threaten to make the whole area into a national monument.
James Wesley Abbott, acting state director of the BLM, on Wednesday instructed all deputy state directors, district managers, and field offices to avoid authorizing more applications, or development, on lands acquired under donor agreements.
From the Los Angeles Times >>here.
May 15, 2009
State Politicians Battle National Park Service Water Protests

Nevada Assemblyman Ed Goedhart (R-Amargosa Valley) fired back at the National Park Service (NPS), after park lawyers filed water rights protest in an effort to protect rare resources, including the endangered Devil's Hole pupfish spring in Amargosa Valley. In April the NPS sent a letter to the Bureau of Land Management (BLM) supporting efforts to promote renewable energy, but saying that it is not in the public interest for the BLM to approve plans of development for intensive water-cooled solar energy projects in the arid basins of southern Nevada (Solar Millenium is planning to do just that). They urged the use of air-cooling and photovoltaic technology. In addition to water issues, the NPS said effects on degradation of visual resources like the night sky, air quality impacts from construction and operations, sound impacts from turbines or cooling towers, and interruption of wildlife habitat corridors should also be evaluated.

"Depending on the location of these projects, large-scale concentrating solar energy projects in Southern Nevada that require large amounts of water potentially face several water rights-related obstacles in obtaining the necessary water for their projects," the NPS letter said.
In particular the letter referred to Amargosa Valley, where the state engineer ruled the basin is over-appropriated by 18,000 acre feet per year and applications for new water rights will be denied. The state engineer's ruling 1197, issued last November, precludes moving points of diversion for water rights in Amargosa Valley closer to Devil's Hole, home of an endangered pupfish. In a 25-mile radius around Devil's Hole no water diversions would be allowed.

But Goedhart pointed out, "Farmers who sell or lease their existing water rights can keep the existing wells in place by piping the water to the solar project site. Indeed some water right diversions will be moved north and away from Devil's Hole, mitigating any current effects on Devil's Hole...I personally have spoken to the governor's office, and Nevada will not stand in the way of converting agricultural water to commercial water for the purposes of power generation, a higher, value-added, economic benefit."

The state engineer also issued an order holding in abeyance applications for water rights in basins north of Lake Mead National Recreation Area, where solar energy projects were proposed pending further studies. The NPS quoted ruling 5115 pertaining to that water basin, which states, "The state engineer does not believe it is prudent to use substantial quantities of newly appropriated ground water for water-cooled power plants in one of the driest places in the nation particularly with the uncertainty as to what quantity of water is available from the resource, if any."

See the article in the Pahrump Valley Times >>here.

May 13, 2009
Devil's Hole Pupfish Part of Park Service Water Protests
At the annual Devil's Hole workshop at Furnace Creek in Death Valley National Park, Water Rights Attorney Peter Fahmy defended the park's protests of water rights applications filed in Amargosa Valley. Fahmy, who works for the National Park Service, said water is a very valuable asset. "You have a fiduciary duty to protect that asset and if that means filing five, 10, 15, 20 protests a month, you do it." Devil's Hole, a 400-foot-deep cavern where a unique species of pupfish lives, "one of the most valuable assets in the National Park Service."
He called state engineer's order No. 1197 a wonderful model other states should adopt. It outlines how states can work together with federal agencies to protect federal water rights.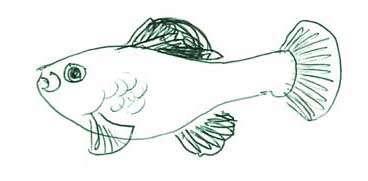 Deputy State Engineer Bob Coache told the workshop, "Any [large] applications in Amargosa Valley -- mountain top to mountain top -- are going to be denied outright." A federal court ruling determined the water level in Devil's Hole must be 2.7 feet below a marker.


But the order doesn't address the California side. During his parting comments at the conference, outgoing Death Valley National Park Superintendent J.T. Reynolds told the crowd, "I just hope we fought the good fight because water is definitely the battleground and everybody wants some of it. I think what's important for us is to make sure the usage we have to work with is sustainable, and knowing that there will be development in the desert, we're not going to stop that, but I hope that we're sane about our use and eliminate the abuse that we had in the past. I hope we're all partners in ensuring the use of water in the desert in a sustainable way."
See the article in the Pahrump Valley Times >>here.
May 4, 2009
Green-Energy Cowboy Salazar Opens "Energy Frontier"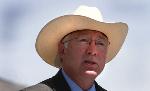 Arriving at the stunning cliffs and mountains of Red Rock Canyon National Recreation Area outside Las Vegas, managed by the Bureau of Land Management (BLM), Interior Secretary Ken Salazar on May 2 announced a plan to give $26.4 million in stimulus funds this year for more than 40 Nevada BLM projects, including largescale renewable energy, siting transmission lines on public lands, habitat restoration, and building and restoring roads, bridges and trails. A group of BLM employees, conservationists,  some local officials, and members of the Las Vegas Paiute Tribe listened. Afterwards Salazar met with representatives from more than a dozen solar companies.
The Interior Department will throw $3 billion in investments from the American Recovery and Reinvestment Act, signed by President Barack Obama, to speed up renewable energy development. Saying millions of jobs will be created by this stimulus funding, Salazar declared, "work we will do here on solar and geothermal and wind energy is going to be exemplary for the rest of the nation as we take the moonshot on the new energy frontier and tackle the realities of climate change." Senate Majority Leader Harry Reid chimed in, saying Salazar "really believes that Nevada is going to be at the point of the spear in terms of moving this country forward with a whole new renewable energy  agenda."
 
There are 241 applications for wind projects and 199 for solar projects that are in various stages of processing. Salazar said the BLM will open special offices in Nevada and other Western states to accelerate processing the backlog of renewable energy permit applications on public land.
 
"So we are putting the pedal to the metal to get it done," he said.
Salazar said BLM stimulus funding will make more private sector jobs, such as contractors installing solar panels on BLM building rooftops, including the fire station at Red Rock Canyon National Conservation Area.
See the story in the Las Vegas Review Journal >>here.
Basin and Range Watch Comments: Contractors could also be hired in droves if the government decided to make installing rooftop solar on homes a priority as well -- for the rest of us, not just for government buildings (see how in The Solution). The way Salazar worded his statements about our public lands as an "energy frontier" remind us of a new internal type of colonialism, this time Big Corporate-backing Government aiming at rural America, ranchers, farmers, small towns such as Searchlight in Nevada, and tribal homelands such as the Western Shoshone Nation. Water rights issues alone will create battles in places such as Amargosa Valley in southern Nevada-California. We also hope that with all this stimulus money, BLM will increase the level of communication with the public about the many renewable energy projects. (This information has sometimes been difficult to get.) We hope that streamlining the renewable energy process on public lands does not mean cutting the public out and compromising the National Environmental Policy Act (NEPA).
April 22, 2009
LA Launches Solar Rooftop Map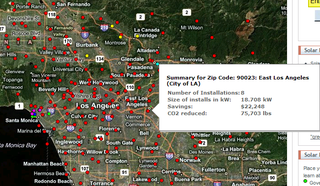 Los Angeles County, California, launched a new solar mapping website that covers 3,000 square miles of city, to help residents and business owners determine whether their properties would benefit from solar power. By typing in an address, users can check a property's roof size, space for solar panels, potential electricity production, electricity savings, carbon reduction, nearby solar installations, utility company rebates, and solar panel installer information. County officials plan to use the site to determine whether to install cost-saving devices such as solar water heaters and photovoltaics at 800 county buildings. The county is also developing a program starting in July to help residents and business owners pay for solar panels by borrowing money from the county and paying it back through property tax bills.
See the story in the Los Angeles Times >>here.
April 22, 2009
NRDC Modifying Google Earth Map After Many Groups Protests
The Natural Resources Defense Council, after a conference call earlier this month in which various local and regional grassroots groups, inlcuding Western Watersheds Project, Basin and Range Watch, and others, called into question the Renewable Energy Map project on Google Earth. The National Audubon Society and NRDC created maps of restricted lands and sensitive wildlife areas in the western U.S., to help plan development projects by avoiding such areas. But questions were raised about the great complexity of the issue and some of the many conflicts associated with renewable energy development on wildlife habitats and public lands. Much Sage grouse habitat was not included in the northern Great Basin, Desert tortoise habitat concerns were not addressed in the southern deserts, and we asked why important watersheds such as the Amargosa River basin were not protected to prevent the drying of springs for endangered pupfish at Ash Meadows National Wildlife Refuge (Nye County, Nevada).
Johanna Wald, senior attorney for NRDC, said they would "mull over" our suggestions, but agreed to put a "disclaimer" on the maps, stating that "lack of special area designation does not mean lands are appropriate for development." She admitted this kind of statement should have been included in the beginning. NRDC wants to add new information to the map while working with groups on "land protection issues." (We will be watching.)
April 22, 2009

Map: Bad Solar, Better Solar, Best Solar Land


Desert advocates Larry Hogue and Chris Clarke have updated their great Google map showing one poor site for a solar power project, the Ivanpah Valley (where BrightSource Energy has proposed a 400-megawatt solar power plant); several better sites, including spots near the original Solar One and Solar Two project sites at Daggett, lands around Lancaster/Palmdale, Imperial County's Mesquite Lake development zone, and several more; and the best solution of all, the thousands of square miles of rooftops and parking lots throughout Southern California just waiting to be covered with photovoltaic solar panels.
For more information, visit the website of the Desert Protective Council.
April 21, 2009
Beware Leases of Private Land to Wind Companies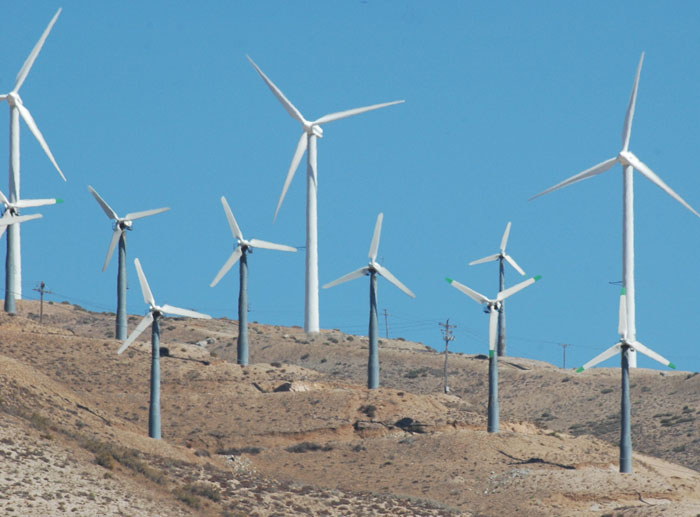 Wind companies are trying to nix contract disclosures. RES Americas and NV Energy are partners in China Mountain/Browns Bench, a large wind energy project in northeastern Nevada and southern Idaho.
RES Americas has contacted many farm owners in North Dakota about leasing land for their wind projects. North Dakota legislation is currently being debated that would prevent wind companies from requiring landowners to keep silent about the details of their contracts with wind developers. The contracts give companies the right to use private land for wind projects and outline how property owners are compensated.
But Colleen Rice, a lawyer for NV Energy of Las Vegas, in looking over the contract that her own mother would sign back in North Dakota for a wind lease from RES, became alarmed. "North Dakota farmers are being approached by sophisticated wind developers and are being encouraged to sign contracts, either leases or easements, which subject the farmers to legal risk that could, one day, cause them to lose their farms,".
Scott Dunaway, a spokesman for RES Americas, said his company contacted NV Energy in April to allege that Rice may have violated the China Mountain project's confidentiality provisions. She was censured and had no further comment.
See the story in the Idaho Statesman >>here.
April 21, 2009
Park Service Protests Big Solar Expansion in Nevada Desert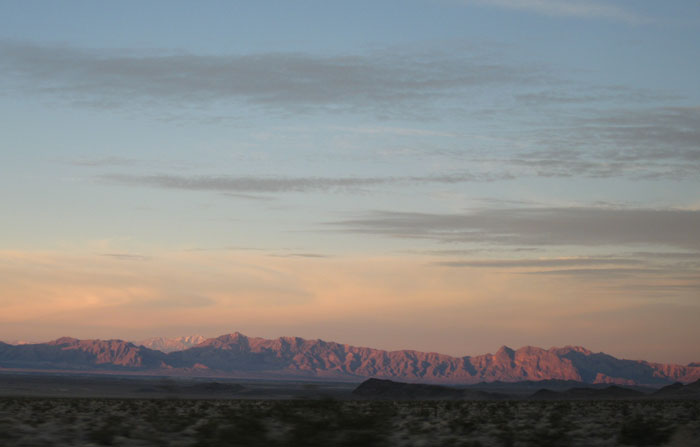 Public Employees for Environmental Responsibility (PEER) announced that the National Park Service (NPS) is sounding an alarm about plans for scores of big solar power plants in southern Nevada.  The parks worry about water shortages, habitat disturbance, air pollution, sound pollution. and light pollution affecting night skies.
A memo from NPS Pacific Regional Director Jon Jarvis to the Acting Nevada U.S. Bureau of Land Management Director details concerns about 63 industrial solar projects slated for BLM lands in southern Nevada.  Jarvis cites potential negative impacts for Lake Mead National Recreation Area, Mojave National Preserve in California, and the Devils Hole section of Death Valley National Park in Amargosa Valley.
Jarvis stressed the lack of water to operate the solar facilities: "The NPS asserts that it is not in the public interest for BLM to approve plans of development for water-cooled solar energy projects in the arid basins of southern Nevada, some of which are already over-appropriated, where there may be no reasonable expectation of acquiring new water rights in some basins, and where transference of existing points of diversion may be heavily constrained for some basins."

"Except for the sun, there is little that will be 'green' about mega-solar plants in the desert," stated PEER Executive Director Jeff Ruch. "There is not enough water in the desert to run utility-scale water-cooled solar plants...A comprehensive energy plan is needed but cannot depend solely on public lands. America's deserts should not become national sacrifice zones for energy farms."
The PEER website says: "PEER is urging alternative approaches such as rooftop solar installations.  Southern California has vast areas of open roofs that do not require huge new transmission corridors.  In addition, there are large private lands, such as degraded cotton and alfalfa farms, that have little current ecological value.  On public lands, BLM should limit "Big Solar" power-plants to desert areas that have already been despoiled, such as toxic waste sites and abandoned mines.  Co-locating solar plants with already compromised lands not only minimizes loss of wild habitat but also reduces the maintenance burden on BLM of keeping these damaged lands in exclusion."
See the story at www.peer.org >>here.
April 20, 2009
Nevada Lawmakers Debating Rooftop Solar
Distributed renewable energy (such as rooftop photovoltaic) vs. industrial-scale renewable energy plants (out in the desert): the Nevada Legislature is debating whether to give more rebates and incentives to the former in order to catch up with other states thatalready require more local point-of-use projects. An amendment to a senate bill would require that 2 percent of all renewable energy to come from distributed solar.
Proponents say rooftop, or distributed, solar has several advantages over large power plants: It doesn't consume vast stretches of desert. It's more efficient because energy isn't lost during transmission. It can help stabilize the power grid and lower energy prices during peak times.
"As the market grows in Nevada, we expect to see local costs come down" said Annie Carmichael, federal policy director for the Vote Solar Initiative, a nonprofit organization. "Sometimes the completely free market approach just doesn't work out."
The big utilities are opposed: NV Energy, as well as several legislators on the Senate Energy committee. They claim distributed generation is less efficient economically and more costly than building utility-scale solar and wind plants. A mandate to require localized renewables would be an unfair giveaway to solar photovoltaic manufacturers who produce rooftop panels rather than the rows of curved mirrors common in big solar plants, they argue.
Other items being debated include a controversial Assembly proposal creating an extraction fee for renewable energy leaving the state. Another proposed amnedment seeks to make companies "use their best efforts" to obtain at least two-thirds of their construction workers from Nevada contractors in order to receive state abatements. "If you're going to get a flash in the pan 100 construction jobs and no long-term jobs, that isn't necessarily a good deal," said AFL-CIO Executive Secretary-Treasurer Danny Thompson. "I think distributed photovoltaics eliminates that problem. You get more jobs than you do in one giant plant. In one giant plant you build it and you go home."
Story in the Las Vegas Sun >>here.
April 16, 2008
El Dorado Valley Solar PV Plant to Expand

Next to the natural gas-burning plant (above) in El Dorado Valley, part of Boulder City, Nevada's "green zone," a solar company wants North America's largest sun-powered energy plant. San Diego-based Sempra Generation says it would more than quintuple the size of its present photovoltaic array solar "demonstration project," from 10 megawatts to 58 megawatts. First Sempra must find buyers for the electricity. Local NV Energy does not seem interested, so the energy will probably be sold to California. The combined natural-gas/solar PV plant is expected to employ three people upon completion. See the present Sempra operation >>here.
From the Las vegas Review-Journal >>here.
April 2, 2009
Google Makes New Mapping Tool to Help Big Solar/Wind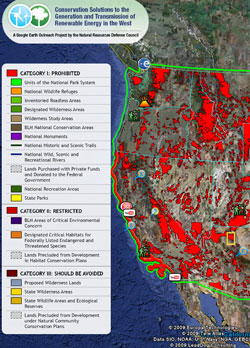 "Path to Green Energy" is a new mapping tool on GoogleEarth that shows renewable energy developers where they can build. The National Audubon Society and the Natural Resources Defense Council compiled maps of endangered species habitats, national parks and other forms of protected land and loaded all that data into Google Earth.
"The maps make it clear that  there is plenty of room for green energy," said Brian Rutledge, executive  director of Audubon Wyoming.
 
The maps "could prove useful to housing developers and anyone interested in land-use issues," says the article. Covering 13 Western states and including habitat data for more than 170 species, the creators want to add more states and species as well as information showing places that have the most sunshine and the strongest winds.
California law requires the state's utilities to get 20 percent of their electricity from renewable sources by the end of 2010, and companies are scrambling to build large solar  and wind farms that will help meet that goal. BrightSource Energy in Oakland said it could help streamline the process of choosing renewable power sites. The company plans to build several large solar power plants in the Mojave Desert and has had to find suitable spots that weren't part of a nature preserve or a military installation.
See the GoogleEarth mapping tool at the Natural Resources Defense Council site >>here.
See the story >>here.
March 23, 2009
Global Warming Scientist Undermines Science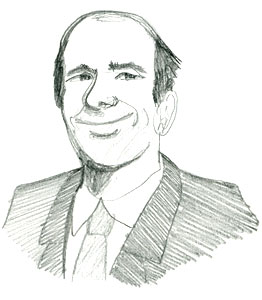 Is the desert the same as desertification? Apparently some "experts" think so. Joseph Romm, in his Climate Progress blog, decried the suggestion that the biologically rich Mojave and Colorado Desert habitats along old Route 66 be turned into a national monument to save them from industrial solar developments (see our story >>here).
He says: "Senator Dianne Feinstein (D-CA) appears to like deserts so much that she wants them to stretch from Oklahoma to California and cover one third the planet."
And: "Deserts are certainly fragile, inhospitable eco-systems — a key reason that nobody should want them spreading over one third the planet or the entire U.S. Southwest for 1,000 years"

Romm, a PhD physicist from MIT, was Acting Assistant Secretary of Energy for Energy Efficiency and Renewable Energy in the Clinton Administration. He advocates clean energy, carbon-mitigating technology, and believes concentrated solar thermal power plants will "save humanity." His Climate Progress is a project of the liberal think tank the Center for American Progress, created by John Podesta, the head of Barack Obama's presidential transition team after the 2008 election. The institute receives approximately $25 million per year in funding from a variety of sources, including individuals, foundations, and undisclosed corporations (SourceWatch.org).
This is another distressing example of mainstream "environmentalists" describing deserts as things to be "reclaimed" rather than protected. 
We would counter that the amount of roof tops in the southwest alone could save enough energy and cut enough greenhouse gasesto rival the amount of industrial facilities planned for the Mojave Desert (see our story >>here). Plus, desert ecosystems store carbon and removing them will only speed up climate change. Deserts may be a much more important storehouse for carbon dioxide than previously thought, suggests a study of the Mojave Desert.

Also see Chris Clarke's rebuttal to "desertification" on Coyote Crossing >>here.
HOME..........Renewable News 1