March 24, 2010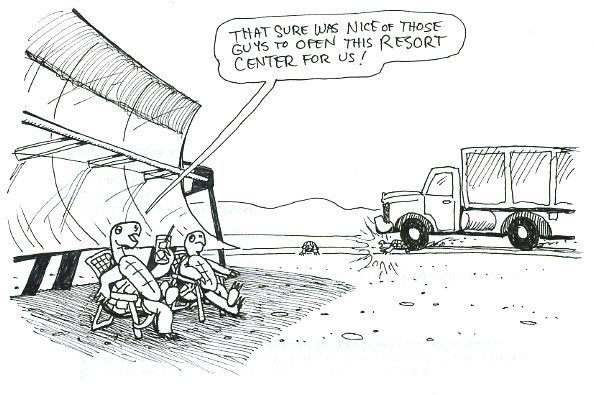 Big Solar as Fast as Possible
Riverside, California -- A virtual Governor Schwarzenegger on-screen (he failed to show up in person at his conference) announced to the gathered audience at the University of California: "What is most important is to move renewable energy forward."
The Governor was in Sacramento signing a bill to exempt "green manufacturing companies" from state sales tax (at a time when California is broke).
"We care about protecting the desert and fragile species, but California will be a powerhouse for the sun, wind, geothermal. We must move ahead as quickly as possible," he said.
Lester Snow, Secretary of Resources, discussed how 20 renewable projects are currently Fast-Tracked in California, with another 220 projects in the pipeline. The state was expediting the 20, and making a long-term push for the rest in the future. Yesterday the Desert Renewable Energy Conservation Plan was launched, "protecting unique and sensitive habitat in the Mojave Desert." (See the Padilla Bill, SB 34, >>below.) He called the efforts a "strategic growth plan," which will actually "enhance the environment."
A morning panel convened to discuss the future of renewable energy. Carl Zichella of the Sierra Club stated, "We must go from the Megawords to the Megawatts."
Zichella told how the country's increased use of natural gas has burdened our urban communities and communities of color. California has excellent wind and solar, and the state should use all sources together: rooftop solar, efficiency, along with utility-scale renewables, he explained.
V. John White, of the Center For Energy Efficiency And Renewable Technologies (CEERT) out of Sacramento, said that to get rid of all existing coal plants in the West we must find 33,000 MW of renewables.
"It seems odd that a Sierra Club guy would be on a panel for largescale utility solar. We are all working together to stop Climate Change," he said, also pointing out that they were working with Joanna Wald of National Resources Defense Council.
White warned that Climate Change is "unraveling all our land conservation efforts." With increasing temperatures 20% of desert species will go extinct (this is highly speculative, and a convenient argument for the renewable industry to gobble up healthy ecosystems. Desert species may also face extinction from habitat fragmentation due to large-scale energy projects).
He reiterated how we need all the distributed generation, energy efficiency, and demand-side management we can get, but still need a lot of utility-scale projects.
"We have the opportunity to protect large areas that we did not have the opportunity before to protect," he said, but also added that "wealth creation" would also follow.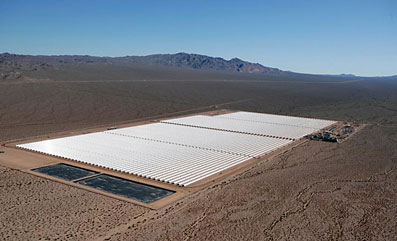 <Nevada Solar One parabolic trough solar thermal plant.
Next to speak was Rainer Aringhoff, founding President of Solar Millennium, and currently Managing Director of Desert Technology. In a heavy German accent he discussed how the permitting of the SEGS plants (solar thermal) in the 1980s was a big effort. The Kramer Junction parabolic trough plant "protected the desert tortoise," he said. Tortoises could "hide under the solar collectors and be protected" from predatory ravens, which he claimed were not an original part of the desert.
This is incorrect, as power plants such as these have had tortoise exclusion fences around their perimeter following California Energy Commission guidelines. His mis-statement does not due justice to either the solar industry's efforts or the environmentalists supporting him.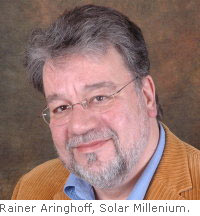 The panel discussed the Renewable Energy Transmission Initiative (RETI) and the California Desert and Solar Working Group (which as of 2009 included Solar Millennium, BrightSource Energy, the Large-scale Solar Association, Pacific Gas and Electric, CEERT, Defenders of Wildlife, Sierra Club, Center for Biological Diversity, and Natural Resources Defense Council). The group's goal is to "Protect ecosystems, landscapes and species while supporting the timely development of solar energy resources in the California Desert."
Aringhoff explained how the group was trying to bring RETI and the DRECP together -- transmission corridors and renewable energy zones, but this was "not easy." "We looked early on at species issues," he remarked, "but we have to arrive at solutions." The American Recovery and Reinvestment Act deadlines for grants to solar companies was fast approaching, he reminded the audience, and billions of dollars could come into California (he meant to say Germany perhaps). If these federal deadlines are not prolonged, or the solar industry is prevented from meeting them, Aringhoff said the market would not be functional and it would become a "eunuch."
An Opposing View: "I Thrive In the Land"
Carl Zichella brought up urban Environmental Justice issues, but a Native American speaker reminded the audience that these important concerns also take place out in the desert and in rural communities.
Linda Otero, Council member of the Aha Makav Cultural Society, Fort Mojave Indian Tribe, discussed how the land is a source of teaching for her people. The Tribe is taking young people out to the land, "the land is our teaching resource, not a library." She invited people to come out and visit the Fort Mojave Tribe interacts with the desert -- "We are part of the environment and the environment is part of us."
She mentioned the unique Blythe intaglios, ancient rock figures on desert pavement surfaces, and the many large solar and wind projects proposed for her area. (The Blythe Solar Power Project by Solar Millennium, LLC and Chevron Energy Solutions, would be a 1,000 MW parabolic trough solar thermal plant on a Bureau of Land of Management Right of Way of 9,400 acres, with 7,030 acres of disturbance.)
This project would affect the viewscape of the McCoy Mountains and Big Maria Mountains which surround the Blythe solar project area of McCoy Wash.
"You must understand the landscape, the desert," she said. "Before it was a renewable project site, it is full of resources of medicine, healing places. It may be dormant, but you can go out and tap it and it will rise up."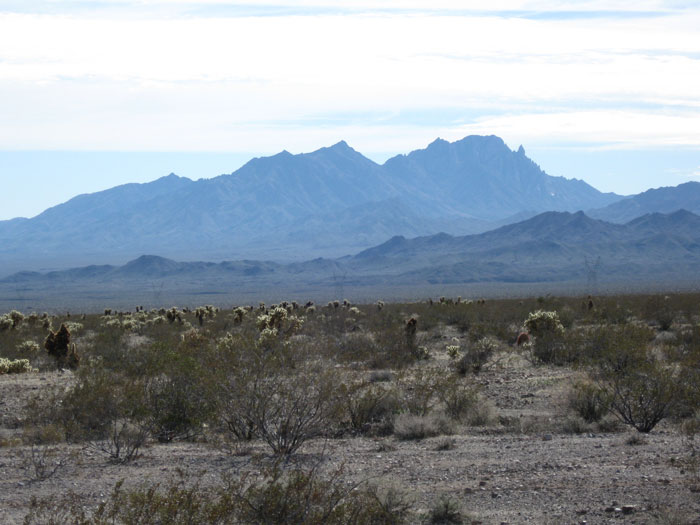 >Spirit Mountain along the Colorado River north of Blythe.
She told of stories her Tribe has of people in old times running from the Colorado River, across the entire desert to the Pacific Ocean, eating mesquite beans. "They knew where to draw from the power places."
These largescale projects will have impacts, she explained. "Places that we see from the mountains down to the valleys will change. How will that affect us? We must live in balance."
When her grandmother passed, Otero asked herself who would now teach her? She found that going out onto the land was a source of teaching, the voices of ancestors could still be heard.
She asked the audience that as they review these projects they consider the land, water, plants, and animals. Also consider the Native American Graves Protection and Repatriation Act (NAGPRA) and the American Indian Religious Freedom Act.
"I know it is an exciting venture, but consider it could also be detrimental to our life ways."